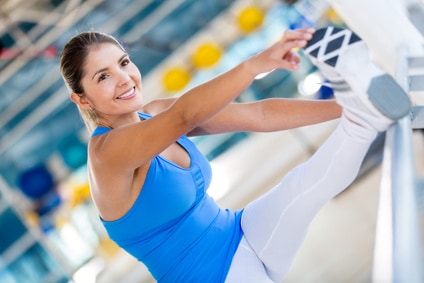 The Benefits of Stretching
Stretching is often considered a physical activity done by athletes or individuals getting ready for the gym. However, stretching is more than just something a person does before participating in a strenuous activity. In fact, stretching can actually improve one's quality of life in a variety of ways.
How does stretching work?
There are five basic types of stretching. The most commonly known form is dynamic stretching, which involves movement or walking stretches in a slow and controlled fashion. A second type of stretching is ballistic stretching, where the person bounces in the stretch, allowing momentum to push the muscles, and making the muscles contract to protect themselves.
Static stretching is a bit more intense, where a person stretches the muscle enough to feel a slight pulling, and holds that position for 30 seconds or more, without moving – for example, the Couch Stretch.[1] Similarly, Proprioceptive neuromuscular facilitation (PNF) stretching is another type of localized stretching, wherein the muscle is stretched through the application of resistance and then a period of relaxation before stretching again.
Lastly, Self-Myofascial Release, or SMF stretching, can be done using a tennis ball, foam roller, or golf ball. This type of stretching works by targeting soft connective tissue.[2]
The benefits of stretching
Increased flexibility and ROM
Those who practice stretching regularly will experience their Range of Motion increasing over time, allowing them to be more flexible.[3]
Injury prevention and muscle priming
When you participate in stretching, you allow your joints to go through the full range of motion, pushing a bit beyond previous limits. This increases flexibility of the tendons, and can help prevent joint ailments such as runner's knee and tennis elbow.[4]
Increased range of motion along with primed muscles mean that your performance in a given physical activity will be enhanced, whether you are engaging in a long run or dancing ballet.[5]
Engaging in high-intensity activities without warming up properly, can lead to muscle cramps. Everyone from seasoned athletes to the weekend warriors can find themselves cramping if they go without proper warmups or sufficient hydration. Fortunately, these cramps can be alleviated by gently stretching the affected muscles. [6]
A note on Delayed Onset Muscle Soreness (DOMS)
Contrary to popular belief, evidence in recent studies has shown that stretching does not help reduce DOMS, or Delayed Onset Muscle Soreness. One study showed that participants who engaged in stretching prior to High-Intensity Interval Training (HIIT) suffered from increased DOMS. [7]
Introducing Stretching Into Daily Life
Stretching can be a great way to start the day or get your body ready to move. In the morning, stretching can get the blood flowing and wake you up. At night, they can be a great way to relax you and transition your body for bed. Additionally, performing stretches that mimic your physical activities, like the gym or running, will help to prepare your muscles for the strenuous activity.
As with introducing any exercise to your routine, make sure you consult with a doctor to get the green light for stretching on a regular basis. If inexperienced with stretching, then you may want to recruit a skilled fitness professional to teach you proper form and techniques in order to execute them safely and effectively.
---
[1] http://www.crossfitsouthbay.com/stretch-of-the-month-couch-stretch/
[2] https://en.wikipedia.org/wiki/Myofascial_release
[3] http://stretchcoach.com/articles/improve-your-flexibility/
[4] https://www.fitnessmagazine.com/workout/stretch/benefits-of-stretching/
[5] http://www.mayoclinic.org/healthy-lifestyle/fitness/in-depth/stretching/art-20047931
[6] http://www.sportsinjuryclinic.net/rehabilitation-exercises/stretching-exercises/benefits-of-stretching
[7] http://www.menshealth.com/fitness/the-biggest-muscle-soreness-myth